Well we have picked out our nursery theme, it's going to be nautical & blue. We were able to get our hands on the actual nautical chart that they used for our wedding cruise sailing. The entire week is plotted out and the captain signed it with his crew. So we are going to get that framed and we are going to hang that in the room. I found a nursery that we plan on copying the look so I'm really excited. I went and bought some paint today to test out the color.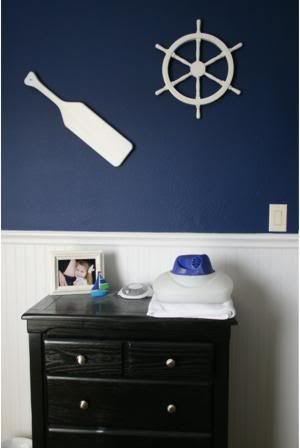 We have plans on doing the wainscotting (white board) and getting the same color crib and dresser. I can't wait!
This is the bedding we plan on getting from Baby Gap! It's perfect and simple and not too cheesy.
As for the bathroom that is attached to the nursery, I want to to a simple Eric Carle theme. I LOVE the Hungry Catapiller book! I plan on buying the artwork and hanging it in the bathroom. Its going to look awesome!

Bump Picture
Its growing slowly but surely
18 1/2 weeks