Wow, 3 months since I was spending my first night with Nolan in the

NICU

, 3 months from one of the most scariest, yet most exciting times in our life. I miss him. I can't believe he would have been 3 months old today. This week is a hard one since it's his 3 month birthday, 3 months since he went to Heaven and due date. How will I get through this?!
We usually celebrate on his birthday but we are both working this month so we didn't. But I do promise I have thought about him SO MUCH the past 2 days!
Not a whole lot is going on in our life right now. Just trying to get from one day to the next and counting down the days until we go on our cruise. Our cruise marks the 6 month point and 6 months is when we can try to start a family again. It's bizarre that it's already been 3 months and we are half way there. I should be getting ready to bring our precious Nolan home from the

NICU

.
FSU

Football season started yesterday. As much as we LOVE college football. It was also a reminder of what was suppose to be this season. We were so excited to have a football baby and was already planning all his

game day

outfits. I remember when we got his due date, the first thing Chris looked up was when the

FSU

/Miami game was. He was hoping he would be here to see the first big game. So yesterday was that game, we went over to Seniors house for a cookout and some swimming. Then we had to watch the

Noles

loose. UGH! I just wish Nolan was here for this. Football season just isn't the same this year & I am not enjoying it as much.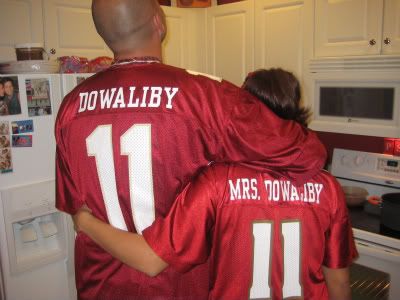 (One of last years game day parties)
I'll end this with a sweet picture. We had our dog Nola in the car with us when we went to visit Nolan. So guess who got to visit Nolan? Yup, that's right... Nola. (I know their names are very close to each other, and it wasn't done on purpose)