2/3 of a year since our Nolan was born. I love celebrating his month birthdays, it's a part of the healing I guess. Since I am working tonight, we didn't do anything special but I have been thinking of him non stop. I am thankful for everyone that remembers with us, it helps remind me that people are too thinking about him all the time which in turn reminds me that I am a Mom & that others recognize that.
Do you want to know what made me SO happy the other night? I w
as really bummed out because I had to get a new

iphone

and I lost all my pictures, contacts, notes, dates

ect

. I normally have it backed up but since restoring my computer this week I hadn't done that yet. There were 3 pictures that I have had saved on my phone that I took with my phone when Nolan was in the

NICU

and I LOST those. Actually the one in my blog header is one of them. So I was bumming and Chris said I'll send you what I have. He had one of three and then..... he had 2 I have never seen before. I think he took them the day he was born while I was in recovery or something. He didn't eve
n have his goggles on yet. I can't even tell you how exciting it was to se
e a picture that I had not seen, I thought I have seen them all. It was just a little piece of Nolan that felt 'new'.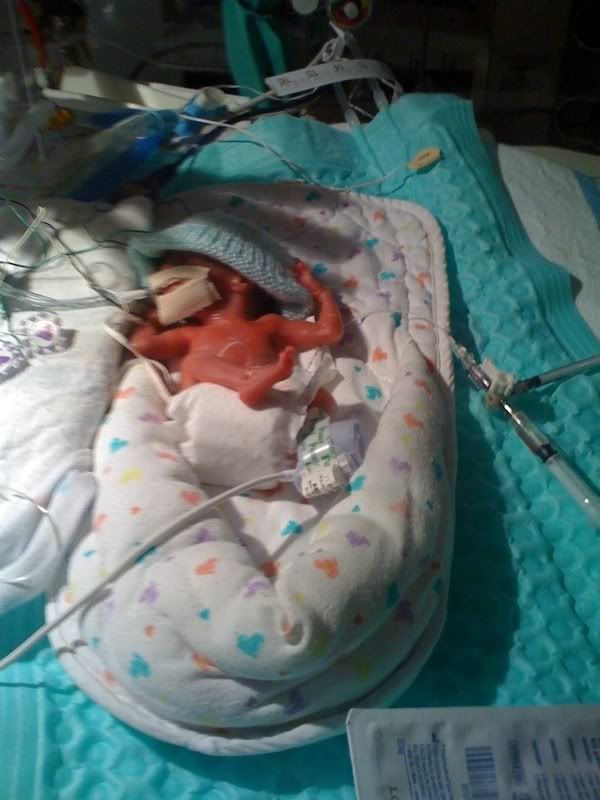 So 8 months ago, we became parents. 8 months ago was the happiest day of our life but the most scary at the same time. 8 months ago we met the most perfect 13 ounce miracle. So if you haven't yet, please consider donating to Nolan's March of Dimes walk. We were able to meet him 8 months ago because of the

NICU

and I want to give back. Every $1 counts. Thank you everyone for supporting Nolan and his walk!!
(Click on the March of Dimes box to the right to donate--------------->)