A thought.. it's something that has been lurking in my head lately so why not try to type it out...
I AM a MOM. I always feel like I have to remind myself. I have come across so many bloggers
that are part of these communities known as Mommy Blogs, where they talk about their experiences and such and such. I really like blogging too and have done the same but I don't fit in. I can't add my site to a Top Mommy blog because quite honestly, I don't write about how I am mothering a child. I have no advice to give, no product reviews to write about and no new pictures to show of little ones.
Yet, I can share my battle with grief and tell you how it is to live day by day, hour by hour wishing this pain would go away, learning to live a new normal and try to keep your babies story alive- I'm good at that. One example of this
is on thebump.com
they have this section for "Real Moms. Real Stories"
Ironic that they add this to the Pregnancy Loss/Miscarriage board
- Where's the knife?
You think they would ever consider my story, naw probably not. It would scare the living crap out of people- I don't want to do that
. I admit, I have a scary story but the part that I gave birth to a 13 ounce miracle who made it 3 days makes it pretty real and makes me a MOM. Right?



It hit the other night when I went to add my blog to a list and it asked what category my blog is in...





Parenting (life with kids)




Fashion/Beauty




Relationships




Infertility




Politics



ect
ect




I DON'T KNOW!




NONE OF THEM!




I don't have a life with kids but yet I am a Mother? Where would I fit in? Parenting (life

without kids)?



I feel like I am in a constant battle reminding myself that I am a Mom, a mother to a 13 ounce little boy. The only time I feel like his Mom is when people talk about him or ask about him. It made my night last night when one of the x-ray
tech at work looked at his picture on my name badge and asked if he could look at
my little boy
.
OF COURSE you can, that's right.. he was
MY
little boy. I
had
a little son.
Maybe this is all coming to terms that I am just a different kind of Mom. Does that mean when I have a baby in my arms I become the real Mom? or a living Mom? I don't know.. this all probably sounds crazy but it's stuff I think about.
I guess I am just in an identity crisis. I hold no grudge against those in the desired club, many are my friends. But I just so badly want to feel part of them too. I just feel like the kid left out in recess, or the last kid to be picked on a team. Get it?
So in attempts to connect with other Moms and feel like part of the club that is socially acceptable I figured it wouldn't hurt to join this twitter thing. Maybe it will help. (forgive me, I am still learning how to use this darn thing)
I am ashamed to admit, I like Twitter. I PROMISED and swore up and down that I would never get it, but it has slowly grown on me. So since I am always up to follow new people I had to post this when I read it on
TaterTwins
blog this morning.
Check out the Yo Tweets Twaffic
Exchange CARNIVAL-
1. Click on my twitter Icon above. Follow me!
2. Shout me a hello on twitter. @smashrt
I follow!! #yotweeps
Then I'll know you followed and I'll reciprocate. SO EASY to do this way! Especially if you use tweetdeck
.
3. Do YOU want more tweeps?
Blog about it.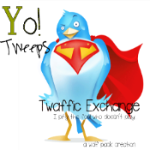 4. Also for more tweeps
, click on the dude above.