I forgot what it's like to wake up with the window open and see palm trees. Our window is usually shut with the black out curtains up. But I fell asleep with the window open, it was just too

cold

nice out. It looks warm doesn't it? HA! I'm over here wondering if it's going to warm up here in South Florida any time soon.
Did Jake really pick

Vieanna

? I guess so. Either way, I would have felt bad for either girl, he '

looooooved

' both and didn't even KNOW who he wanted to marry when he picked rings out. The man I married at least KNEW he wanted to marry me before he decided to ask. And here is this for a thought:
What airline does Jake fly for?

Cuz

if he is this bad of a decision maker, I'd like to make sure I'm never on his plane.(

BustedKate

)
Chris claims he knows why we don't 'fight'. Before you go gag, we DO fight. But we don't have the screaming matches, slamming of the door fights, leave for the night fight. Why? I don't know... we just never have in 7 years. I know they say fights are GOOD in a marriage. But if you spend a weekend with us, you will notice how much we bicker or pick on each other. Chris claims this is the secret to a marriage. He thinks because we laugh when we get annoyed and start making fun of each other, that it doesn't build up frustrations. I guess I'll go with it. This all stems from his grumpy ass waking up this morning and stemming a 20 minute car ride of insults (seriously- it's funny), it was hilarious.
In all seriousness, we love each other. And if we have gotten through the past year, we can make it through anything.. I hope.
I'm in love with my new anchor shirt that I am wearing today. Thank you to the person that kindly informed me that Charlotte

Russe

had a huge nautical selection. You made Chris' day when I came out with a bag of new shirts. HA!
Speaking of Red/Blue & Anchors stuff... I am still in awe of my AWESOME new Coach bag. My Coach Outlet find for $110, original price..... $398!!! I fell in love with this Blue bag! I am head over heels for it! Lame, right? I know it's a 'loud' bag, but I don't care... it's ME!!- or at least the new ME.
Before it was mine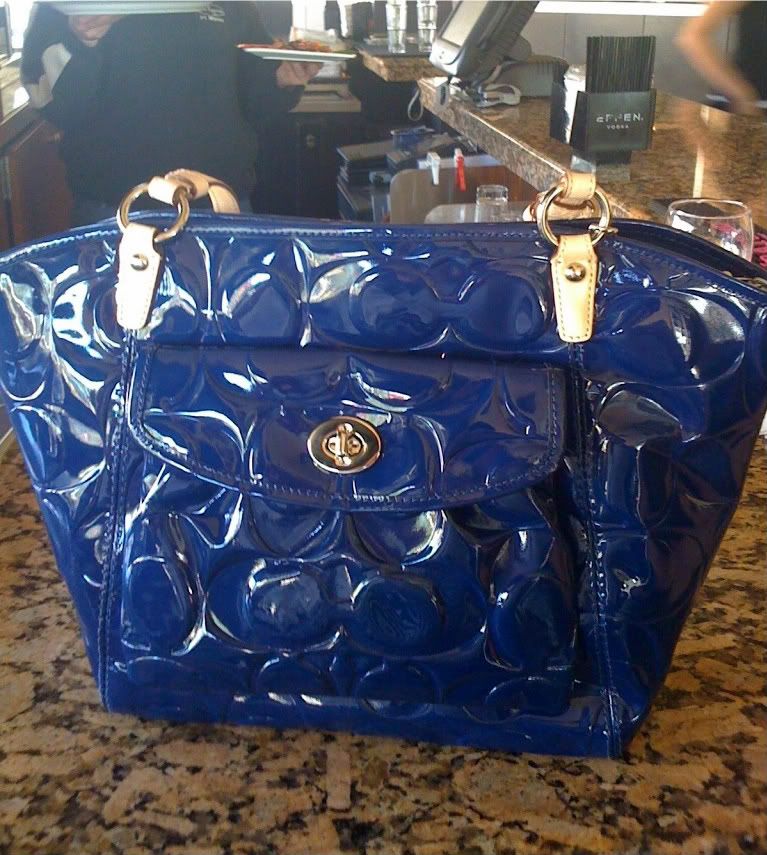 AFTER it was mine!
My parents officially transplant for a 2

nd

time to Florida today!! They should be here in less that 3 hours. I wonder how it will be living in the same city as them again. Last time they lived in the state, I lived WITH them! This will be a fun change and I'm excited to have my family back.
Can't wait to see what the new blog design will look like. It should be launched this month. I wanted something with Nolan, our Family and still have it suited for the future with out steering away from the reason THIS blog was started in the first place.
Guess I need to get a move on and announce this giveaway, maybe I will go work on that now.